Blogger didn't allow me to tell the complete story yesterday..... About half an hour later after stitching a bit more, I went upstairs doing a bit of homework. Hubby had to take care of Lisa, about a quater of an hour later he shouted that I should better come down because Lisa made some mess with my stitching.... :-( She found some scissors as well and this was what it was looking like then: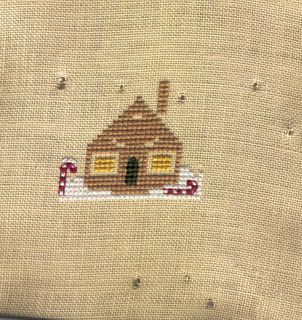 I cut another piece of linen and started again the same evening. I had to restitch the ruined piece and use the threads again because there are not so many threads in VS's accessory packs.
Now I have the new one stitched as much as the first one was when Lisa got it in her little hands.
Cindy
, yes, I have seen the freebie pattern and I like it very much. Maybe I'll stitch it some time as well.